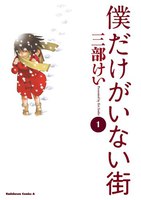 Japanese entertainment news website Comic Natalie began streaming a 25-second clip on Thursday from the live-action film of Kei Sanbe's Boku dake ga Inai Machi (The Town Where Only I Am Missing) manga. The scene features Satoru (played by Tatsuya Fujiwara) and Airi (Kasumi Arimura).
Airi: I wasn't able to do anything for him with my small hands. I want to believe you for my own sake. I want to think there is something I can do with my own hands.
The manga's story follows Satoru, a struggling manga artist who has the ability to turn back time and prevent deaths. When his mother is killed he turns back time to solve the mystery, but ends up back in elementary school, just before the disappearance of his classmate Kayo.
The film's cast includes:
Tatsuya Fujiwara (live-action Death Note, Rurouni Kenshin) as the protagonist Satoru Fujinuma.
Kasumi Arimura (When Marnie Was There, live-action Strobe Edge) as Airi Katagiri, Satoru's part-time job coworker.
Yuriko Ishida (Princess Mononoke, From Up On Poppy Hill) as Satoru's mother.